A quick update from the Athens Church of Christ
Mark Your Calendars: ICOC Event Lineup
The pandemic has created an amazing opportunity for international virtual events to teach, inspire, and connect disciples around the world. Here's a look at six upcoming events. Please spread the word to your friends and ministries!
International Singles Fellowship: Monthly fellowship for singles – Jan 30

Racial Justice in the Church Workshop: Principles and practicals for everyday disciples – Feb 6 & 13

London ICOC Instagram Workshop: Training opportunity for those who run a church's IG account – Feb 9

ICOC Administrators Workshop: For full-time, part-time, or volunteer admins, Board members, etc. – Feb 20 & 27

Broward Media Workshop: For staff and volunteers who help with church websites and social media – Feb 26-27

Let Justice Roll: A virtual conference on the Bible and justice – March 4-6

New DTHS Wedding: A Story of Faith
Congratulations to Jakob and Amy, married in July! They have a wonderful story of patience, persistence, and seeking wisdom in building their relationship.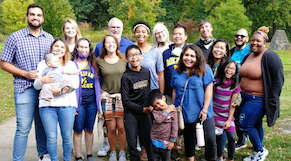 Image Bearers YouTube Channel Shares Good News & Interviews
This channel is designed to highlight our common humanity and inspire us to build up God's Kingdom. Videos include good news, relevant teaching, and current events.
STRONGER Digital Pass Available
Over 40 hours of recordings from the STRONGER conference are now available, including subtitles in 9 languages! The classes cover relevant topics including mental health, purity, diversity, same-sex attraction, conflict resolution, and more.
Annual Women's Service Team Report
The Women's Service Team has been hard at work, providing incredible resources to connect and strengthen women from all ages, stages, cultures and countries.
DT Connect: What We Do in Practice, We Do in the Game
Just because we practice doesn't mean we improve. Jesus says so in Luke 16:10. The right kind of practice matters. Watch to find out more.
Rocky Mountain School 2020 In Review
Although there were major challenges in the world last year, the Rocky Mountain School of Ministry and Theology continued to thrive. In fact, 2020 was a year of great growth in programs, faculty/staff, and greater outreach to the Majority World.
Copyright © 2021 Disciples Today, All rights reserved.
Copyright © *|CURRENT_YEAR|* *|LIST:COMPANY|*, All rights reserved.

*|IFNOT:ARCHIVE_PAGE|*
*|LIST:DESCRIPTION|*
Our mailing address is:

*|HTML:LIST_ADDRESS_HTML|* *|END:IF|*
Want to change how you receive these emails?
You can update your preferences or unsubscribe from this list
*|IF:REWARDS|* *|HTML:REWARDS|*
*|END:IF|*